The Beat Hamster
Administrator
*** ill o.g. ***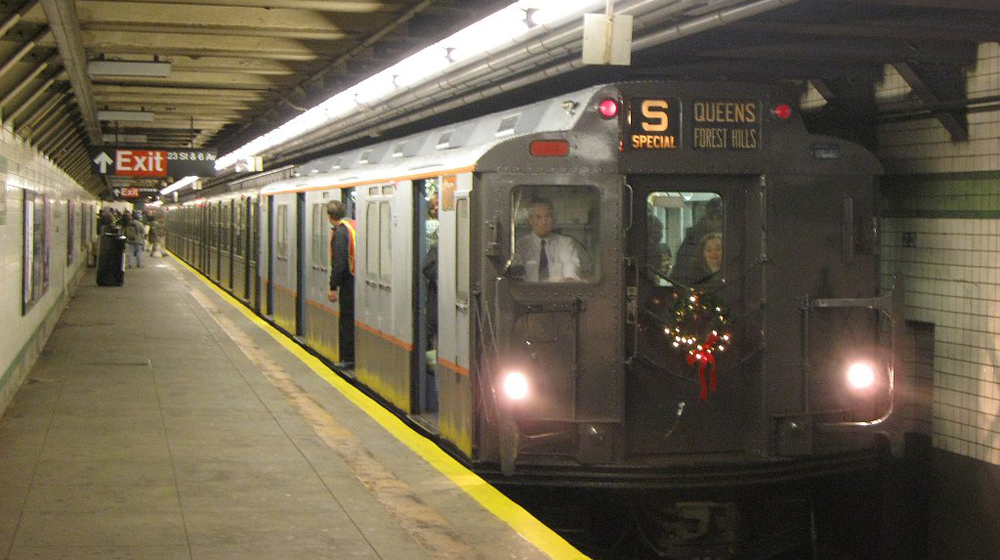 Hip Hop is dead.

I know it's hard to hear, but it looks like Hip Hop as we know it, is dead. It's been said many times over, along with furious debates from others that state it's not dead, but statistics don't lie.
Trends
I recently took a look at Google Trends and plugged in a few keywords to see what was going on, and I quickly realized that things aren't looking very good for Hip Hop as a whole. Here at IllMuzik, member participation and community involvement has been on a decline since 2006, and that's the same year that Nas released his album, "Hip Hop Is Dead".
There are three areas of Hip Hop that I think are very important:
Hip Hop
Hip Hop Music
Hip Hop Production
Hip Hop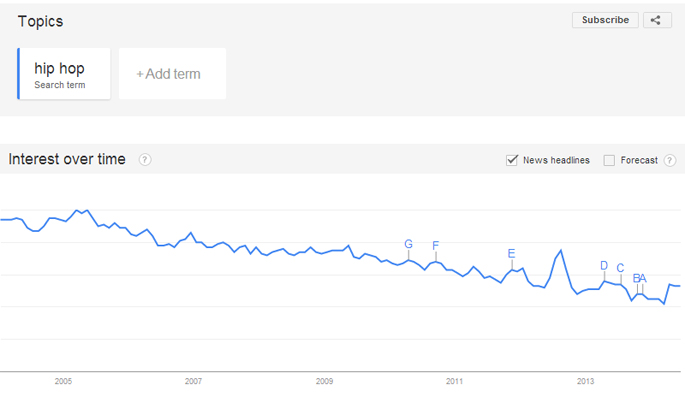 If you take a look at the image above, you will notice how the term "Hip Hop" has been declining steadily since 2004. I think that's as far back as Google's trends go, but it still shows how it's on a downward slope. The decline doesn't seem that bad, but it must be because Hip Hop is more like "Hip Pop", as it has merged with the mainstream. There are many reasons why it could be declining, such as:
It has merged with the mainstream
It has lost its street cred
It's just not interesting anymore
Hip Hop as a culture is a great thing, but that's where it has lost its way; it's no longer a culture. Instead, it has turned into a money-making machine, and although there is nothing wrong with making money, that's not what Hip Hop was originally about. Rather than representing the streets and your community, Hip Hop is now an individual thing.
Hip Hop Music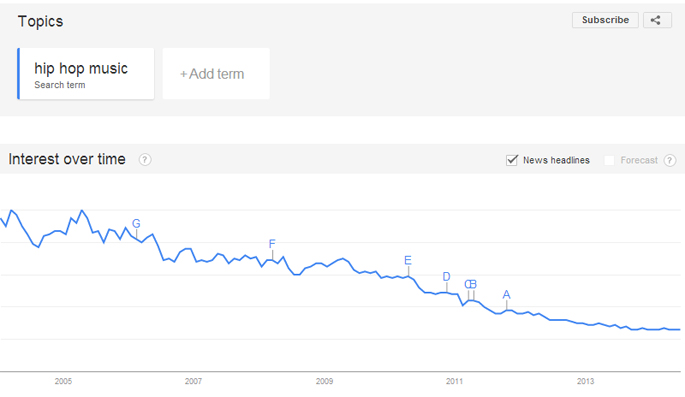 The culture is one thing, but the music is what has really taken a dive, and you don't really need to look at stats to see that. Take a listen to any average Hip Hop song of today and compare it to classic Hip Hop songs - it's almost comical.
Lyrics such as:
"Strike like lightnin', It's quite frightenin'
But don't be afraid in the dark, in a park
Not a scream or a cry, or a bark, more like a spark"
- Eric B. & Rakim "Lyrics Of Fury"
To something like this:
"She looking at the car like she wanna fuck it
She looking at the wrist like she wanna fuck it
Hating on her girlfriend just so I can fuck it
She say she on birth control, no I don't trust it, hoe"
- Kendrick Lamar "I Do This"
Some of you might say it's not fair to compare someone Rakim and Kendrick Lamar, but I have to disagree. Both are/were at the top of the ladder in the Hip Hop world, and those are both snippets of what they can do. It's not just about the words that are spit in those verses, it's also about the content and the intention.
Hip Hop music could be declining because of:
Subpar production
Repetitive topics
Boring lyrics
Terrible lyrics
Popularity of other genres
Hip Hop Production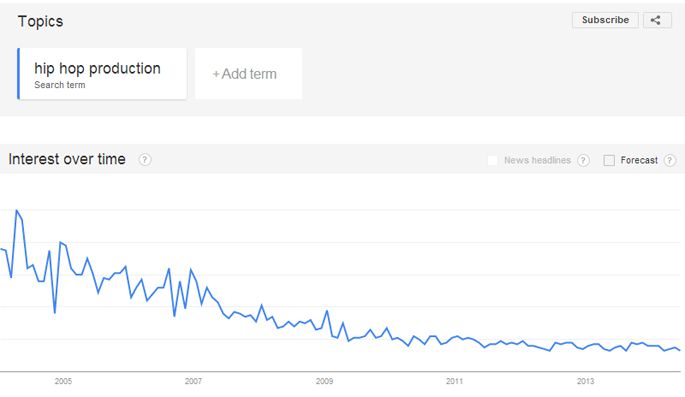 Obviously, this is an important topic for IllMuzik because it's what ILL represents, but it also has a great impact on Hip Hop music itself. Songs from years ago featured sample-heavy beats that were simply outstanding, but as the music production has moved away from samples, it just can't cut it. There are many Hip Hop songs out there with no samples whatsoever and they sound great, but the majority of them just don't stand up to the sample-based ones.
Without dope production, the music will suffer, which will also bring down the culture as a whole. With subpar production and subpar lyrics, why would Hip Hop be trending today anyway? No one is going to be interested in something that just doesn't sound good, so that's why a lot of music fans have moved on to other genres, such as EDM, which has been on a very steady incline.
The Truth
Obviously things change, people move on, and the world keeps on spinning. But in Hip Hop's case, I don't understand how it has moved away from its roots, other than because of the music industry forcing it away with the lure of money. Because if you take a look at the inner city today, where Hip Hop started, poverty and crime are probably worse than ever.
There are tons of news websites that are reporting every day about peoples' struggles and yet there is only a small amount of Hip Hop artists that are representing them - a.k.a. "Underground Hip Hop". What's worse though, is that even the people living in the inner city that are jumping into the Hip Hop game, are not even representing where they came from. Instead, they're faking it and spitting lyrics of fame and fortune because that's what the industry is telling them to do.
Hip Hop is dead.
What Can Be Done?
When I first sat down to write this article, I honestly could not think of something that can be done to fix this situation. It's possible that today's garbage-laced "Hip Hop" can be changed, but it would require a massive movement with hundreds if not thousands of people to get involved, refusing to bow down to the mainstream. There are plenty of dope underground artists that have great lyrics, great production, and great music.
Sadly, their YouTube videos only get a few hundred hits.
Yet Nicki Minaj's "Stupid Hoe" has millions of hits:
There may be some of you that don't think Nicki Minaj should be considered as part of Hip Hop, but according to last night's BET awards, she has now won 5 consective times as the Best Female Hip Hop Artist. Looking at that video (and trying my best not to have a seizure) - it's a shame.
The only way Hip Hop, and I mean REAL Hip Hop can come back and stay, is if we do like Wu-Tang Clan did in 1993 and make Hip Hop better. That year was pivotal because not only was Hip Hop going at full force, it actually improved. Once 1998 came around, there were too many artists, too many labels, and too much money involved. The decline began...
Hip Hop is dead?
Further Reading Related to Hip Hop
Last edited: