Beat Scientist
Administrator
*** ill o.g. ***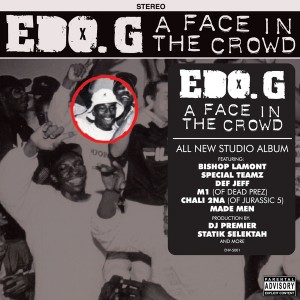 Edo G is an old school rapper that recently released his new CD called -
A Face In The Crowd
. Don't be misled though, Edo G is a veteran that has been around and seen a lot. His album is directed at both old and new school audiences. His style and flow is more apt for seasoned hip hop heads but his message is for everyone.
The album starts out with a skit (one of many...) which leads into a dope track produced by none other than DJ Premier called
Fast Lane
. A very smooth-paced joint, laced with some hot piano melodies plus Premo's cuts.
Up next, a short interlude called
Life
followed by
I Was There
(prod. by M-Phazes). Edo G reflects back to the state of hip hop when things were much different. The beat is smooth with a very east coast flavor.
The paces stays smooth and mellow in
Stop It
(prod. by Max Mostley). This is one of those beats that feels really choppy at first but blends very well together. Edo G is basically tellin cats to get real with life and accept who you are.
Rappers Interlude
is next followed by
Dummies
(feat. Bishop Lamont & Def Jef, prod. by Young Cee). This joint is a little faster-paced but still very smooth. This track is about cats drastically trying to stay relevant.
Up next, another interlude called
Black Power
followed by
Righteous Way
(prod. by Explicit One). A head-bobbing joint with the total package, dope lyrics, background vocals and some nice production tricks. This is one for the groove playlist.
Like That
(feat. Special Teams, prod. by Astronote) starts out with a short skit but leads into a dark beat and dark lyrics. Edo G is saying "watch what comes out of your mouth, once it comes out, you can't take it back".
Another interlude called
Beat Interlude
is followed by
Only You
(feat. Amandi, prod. by Young Cee). This tracks picks the pace back up a bit with some nice R&B style background vocals and hook. This track is a little something for the ladies.
Ain't Gonna Wait
(prod. by M-Phazes) keeps the pace up. This is basically a dis track telling other rappers not to come at him.
A club joint called
Drink Up
(prod. by The Breaks) is up next. This track is all about having fun in the club. Drink, puff and party. The song really takes you back when clubbing was the thing to do.
One Two
(feat. JTronious, prod. by The Breaks) keeps it old school. Beat boxing in the background and handclaps providing the tempo gives this track a very nostalgic feel.
The next track,
Life
(feat. Chali 2Na, prod. by Max Mostley) is a up-paced track that's about life going on. A very nice joint with some dope backgrounds and great energy.
Speak Ur Mind
(feat. M-1 prod. by Statik Selektah) really has that traditional hip hop appeal. This is another for the playlist. Very soulful joint with some crazy bongo percussions.
The CD ends with
World On My Shoulders
(feat. Made Men, prod. by M-Phazes). This song slows the pace back down to a groove-type pace. Made Men and Edo G put an emphasis on making it with the world on their shoulders and striving to make it. This track is followed by an outro called
Time Bomb
.
Conclusion
Edo G really does a good job on this album. He takes the listerner through a wide variety of scenarios, from how it was back in the day to how it is now. I really like this album a lot, even though all the interludes get kinda distracting at times, the overall message and production was top notch. This is definitely an album that you can pop in and let it run all the way through.
Score:
4.5 / 5
READ THE REVIEWS ON AMAZON