Sweaty beats
Administrator
*** illest o.g. ***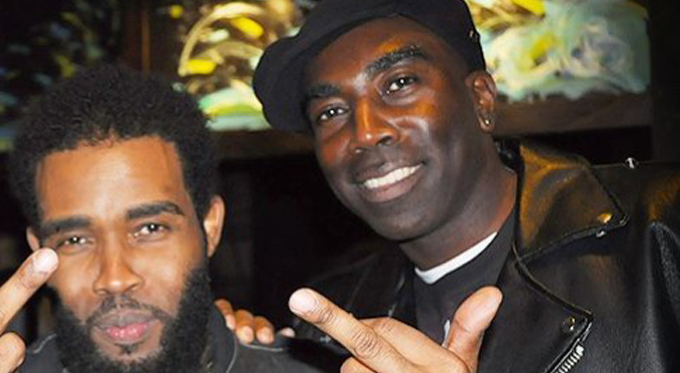 Lee Stone is not your typical Hip Hop producer. With a background in Heavy Metal music and having learned different instruments when he was young, he got his start by working with Pharaoh Monch. He now has tons of production experience, which has led to him working with some of the biggest names in Hip Hop, including Kanye West. I had the chance to pick his brain about music production and what it takes to work in the studio with some of the best, here's what he had to say…
1. Sup Lee Stone, for those that don't know, tell us a bit about yourself.
I am a producer, and I don't just mean a music producer – even though that's what this interview is all about. I have always enjoyed the creative and developmental process. I have a sense of what feels good, and I want others to feel good (or just feel something) – music is just one of the things that allows me to share myself with the world. So, I am a music producer, but I am beyond a music producer.
2. How did you get started producing music?
I loved music before could I speak. My grandmother recently told me that whenever my parents would leave me at her house (when I was a baby) I would cry, and the only thing that would calm me down was the "Theme from Shaft" by Isaac Hayes. She told me that I would be singing the instrument parts and everything (laughs). I remember my father playing classical music while I did fingerprinting pictures. He was using the music to inspire my hand creations (laughs). So the music seeds were planted early. My parents had me in guitar lessons, chorus at school, and I eventually asked them if I could have drum lessons – they let me. I played drums for my band Armageddon in high school. We did heavy metal cover songs from groups like Slayer, Metallica, S.O.D./ and Anthrax.
My first production was a group that I created called Rosemary's Baby. It was me playing the guitar parts, drums, and doing the vocals – no bass. I produced a three song demo and it circulated on the underground thrash/speed/death metal scene. I later got inspired by some of the Hip Hop stuff that I heard from Public Enemy, Mark the 45 King's team in NJ, and DJ Premier. Then I started making beats for rappers around my way and in school. I would do beats for free just to be able to go into the studio. Sometimes I would go into the studio without knowing what I was gonna make, I would have to create tracks on the spot. It was crazy, especially since dudes were paying for studio time by the hour, but it was a good way for me to hone my skill.
3. I didn't know you had a Heavy Metal background! Who are some of your musical influences?
I listen to everything. If you checked my Spotify account you would find everything from ABBA to Wu-Tang (or Zebra). I get influenced by all of that stuff. I like great songs, catchy choruses and I love when a vocalist interprets the music well.
4. How would you describe your sound?
I once described my sound as Black Rock, I don't know if that captures it now. I remember the late Grammy nominated Jazz guitarist Ronny Jordan describing my sound as "Sugar Free". Maybe that's it, but I like the sugary shit too (laughs). I guess I don't make the sugary shit though. I have a very heavy sound – elephant balls ya know?
5. Your hand in the production game goes as far back as 1997 with Organized Konfusion's "The Equinox". How did that happen?
Yeah, I actually did not do any music on the record. I was on one of the skits. I played a bouncer who was giving people a hard time that were trying to get in a club. I had recently met Monch and he was working on the Equinox at the time. He wanted me to play the part because of my distinctive voice. I have a unique texture to my voice, low and raspy but not harsh. Monch also co-produced a song for my group around that time. The funny thing is that he actually produced for me before I produced for him.
6. So you didn't produce on "The Equinox", but now you're currently working with Pharaohe Monch's label W.A.R. Media – how did you start working with Monch?
Me and Monch were in similar places in our lives. He was in transition from Organized Konfusion, and I was just fucking around in my poetry group in BK called Endz of The Earth Kunstrukshuz and my musical group Left Mood. We were both kinda wandering the streets (laugh) not literally, but were we kinda "out there" without much going on. When Monch lost his deal with Organized I asked him if he wanted to work on a solo project with me. We worked on about 6 or 7 songs, two ended up being chosen by Rawkus for Soundbombing II. Monch played Rawkus the other songs we had and they offered the record deal that ended up being the Internal Affairs release in 1999. We hit the ground running from there!
7. Your beats on "PTSD" are really dope, what would you say is your "go to" hardware or software in the studio?
That's a funny question. When I worked on the stuff from PTSD I was trying a few things. I used the MPC Renaissance for Bad MF and Dream, but I used Maschine for Damage and Stand Your Ground. Pro Tools is my go to DAW, I use it for audio recording and MIDI additions. I started messing with Ableton Live too, but at the end of the day I gotta say my Maschine Studio is my goto piece – BUT, if Akai ever tightens up the MPC Renaissance software I will be fully committed to that.
8. Walk us through how you normally create a beat and how it ends up in the studio, ready for an emcee.
It depends on the situation. Sometimes I just make a bunch of beats and somebody will choose it and I have to lay it, hear the song structure, and finish the production. Sometimes I create based on listening to the project. For example, when Monch played me PTSD he had about five songs completed and I thought they were great, but the EP (which is what it was originally) seemed to lack a certain energy to me. So I gave him the beat that ended up being Bad Mf, and I told him, "You need this beat on the album!". I wanted him to write about Post Traumatic "Slave" Disorder – the psychological effects that slavery had and still have on black people, but he went in another direction (laughs). I love (what he) did with it! I guess that's why he is the rapper and I am the producer.
9. Music production is constantly evolving and going more digital. How do you stay up to date on all the new gear?
I am a techie and I love gear – probably too much. I am always revamping my set-ups and checking out new software and hardware. There about two pieces of equipment about to drop that I'm excited about – I gotta get 'em. I do use my shit too (laugh). I don't just sit it in the room to look good.
10. Hip Hop has changed greatly since the 90's, what would you say is the number one thing missing?
I miss artists who want to be different, or who are different. It is not hot to be just like somebody else. It seems like some artists want to do exactly what somebody else is already doing. I don't blame the labels – very few of them were ever creative in the first place! It is the job of the artists and producers to push the mother fucking envelope.
11. You have produced for Scarface, Royce da 5'9″, Method Man, and Shabaam Sahdeeq – do you guide them around your beat, or do you let them do what they do?
It depends on the situation. Seasoned artists are sometimes very closed or nervous to let a new jack to guide them. Sometimes the guiding is not necessary, but sometimes it is very necessary – no matter who you are. I remember having to push Harv Pierre (A&R of the Method Man project) to allow me to add the musical elements to "The Motto". Everybody had gotten comfortable with it just being an 8 bar loop, but it was boring like that to me.
I usually don't give out finished beats, they are just ideas that I intend to complete, but sometimes the artist (and labels) get caught up in the infectious groove and don't want it to change. Then we end up with a 3 minute loop with nothing going on but drum drops. This happens often with my productions because they are so hypnotic. Sometimes I have to submit, but other times I will have to guide the song/project more than others. I will say that artists allow me to guide them now, but it was difficult to get that chance when I first started.
12. Do you have any funny stories from the studio that you would like to share with us?
When I am in the studio I am very serious – straight work mode. I spend my time in the control room, I spend very little time in the lounge or fucking around in the hallway, etc. I was in the studio one day with a well know artist working on a song that I produced. So, I was in the control room working on the mix and every once in while the artist would come in to check the progress. He was spending most of the time fucking around in the lounge with his boys and some girls eating, drinking, and smoking. Some more girls showed up and they were all in the lounge chillin'. The dudes were going crazy over this one chick. I didn't see the girl, but the dudes came in the control room talking about her and scheming on getting with her.
This was about 3 or 4 hours into the night, so they were pretty toasted off substances. They peaked my interest, so I went into the lounge to introduce myself, but I was really going to check out the incredible girl. Anyway when I went it to meet her it was very clear that there was something different about this girl – she was a transvestite. It was clear to me because I was one of the sober ones in the room. It was later confirmed by one of the girls that brought her to the session. I thought it was funny how all of the dudes were the most attracted to her, even though there were actual women in the room.
13. Ha! That's nuts (pun intended). There are tons of beatmakers and producers in the game now, do you have any advice for them?
Dare to be be different. Do one thing different. Follow your heart. Let love rule. Let no man put asunder. Fuck like a beast (laugh). The advice I would give is to have a message you are attempting to communicate in your beat and see it through. The message could be inspirational or not, whatever – just say something through your music. Don't never say nothing (laugh).
14. What are you currently working on?
I have two big things coming out in 2015. A song that I did with Kanye West and a very different project with Pharoahe Monch – I should't call it Pharoahe because he is no longer recording his projects under that name. Anyway get your asses ready for some wonderful twerking.
15. Thanks for doing the interview. Do you have any shoutouts you would like to give?
Shout out to my folks at WAR media: Satori and Guy. My mentee Da Dreak, and my people in BK–EMG.
More Information
To find out more information about Lee Stone, visit:
Last edited: