The Beat Hamster
Administrator
*** ill o.g. ***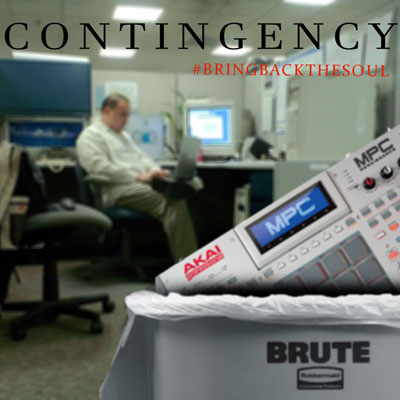 This album was created as audio imagery of the emotions felt witnessing your primary plans fail and then having to rely on a "Contingency." This album will take you through a roller coaster of emotions with the intent to get them all out at once so that you can plan for the next time you decide to try again. Let this album hurt for you so that you can go back out there and continue hustling!!! -
S3oulC1ty
On Contingency 1 it starts out with some classical piano, dropping in real smooth with a thick kick and hypnotic bassline. There's also some strings that are chopped throughout the beat as the piano casually comes back in to give this beat more smoothness.
What's great about how he puts together his beats is that he keeps it consistent. Whenever I hear one of his beats I can tell right away it's S3oulC1ty. That's a very good thing because it shows that he's found his style and niche and has perfected it, so if you're into soulful beats, this is what you should be checking out.
On Contingency 2, sampling "Ain't No Mountain High Enough" is a serious task to take on but S3oulC1ty did a great job by slicing it up and having Diana Ross's vocals cut in and out, along with the melody. A lazy drum track compliments the music.
I like to listen to many forms of music and Soul is one of them. Hearing S3oulC1ty's beats is like taking a trip down memory lane, as he samples lots of Soul music and just straight up classics.
On Contingency 8, I was surprised to hear him sample Nat King Cole. He's super mellow, sure, but now we're going WAY back. Nonetheless, this was a dope flip with lots of strings looped as Nat's voice cuts in and out.
As I continue to listen to this album, it's almost like a remix of some old songs, as he's gone through a bunch of classics to make this huge collage of Soul beats.
Contingency 12 shows how S3oulC1ty really shines with this style of beat making. As he plays the original song he's about to sample, the beat drops in and you get to hear which parts he picked out and strung together. Classic beat making!
My only complaint is that he should break up the monotony somewhat by using a very mellow sample once in awhile.
Just as I'm thinking that - on Contingency 15 he does just that! Very smooth sample that he jacked, although that last part of the sample in the loop - I wish he carried on more. That sounded so nice!
On the last beat, S3oulC1ty takes a Brass sample and flips it around with some heavy bass, turning it into a very dope beat. The best part is the low end and how he brings the horns back in throughout. This one's really well done and I could easily see some artists over it.
Conclusion
With 26 beats, it can be a bit too much to take in at once but each beat is under three minutes, so it will still be enjoyable.
I highly recommend you give this album a listen, (especially considering it's FREE) and you'll be able to hear for yourself what S3oulC1ty has to offer.
Whether you're into this style of beats or not, it's still a dope album that's great to just chill out to.
More Information About S3oulC1ty