Beat Scientist
Administrator
*** ill o.g. ***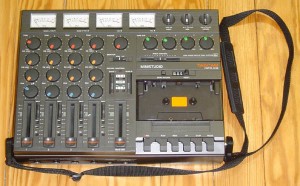 For all you young cats that have been making beats with Reason or an MPC, you must not forget that a lot of this beat-making stuff was done way back with 4-track cassette tape recorders! The 4-track was always a popular tool for bedroom producers and home studios since it was small and portable and made recording easy and straightforward. Hip Hop DJ's were also big 4-track users, banging out numerous mixtapes because it gave them more breathing room, throwing samples and snippets into their mixes.
History
I was trying to dig up some information on the Tascam Porta One but there doesn't seem to be anything useful out there since Tascam released many Portastudio's back in the day. However, I first got my hands on the Porta One in the mid-1990's and quickly found a use for it.
Features
From what I remember, there were four tracks, a master slider, four old school meters at the top, and the coolest part were the knobs! Instead of the usual stand up knobs, these ones were flat so you could slide them around easily whether it be for the EQ, Pan or Gain. It also had four mic/line inputs at the front, stereo RCA and individual RCA outputs on the side.
Usage
What did I use the Porta One for? Well back then I was heavily into DJ'ing and making mixtapes so it was only natural that I would use it to record my mixes and have fun doing it. I successfully recorded
Mixed Nuts Vol. 1 & Vol. 2
on this piece of gear, and along the way I also learned quite a bit about recording, especially bouncing tracks and punching in/out! What I really enjoyed about this 4-track is doing just that - using only four tracks. With today's infinite recording options and infinite tracks at your disposal, it's much more interactive using the Porta One because you're basically forced to use your head and think about how you can bounce track 3 over to track 4, for example, in order to free up room. Ah, the good old days...
Conclusion
Even though 4-track cassette tape recorders are dead in today's recording world, it's still a niece piece of gear to check out if you're up for it. The only thing standing in your way is where to buy cassettes!
Fact
I read once that Compton's Most Wanted's song "N 2 Deep" featuring Scarface was recorded on a 4-track! Here's the song: