Beat Scientist
Administrator
*** ill o.g. ***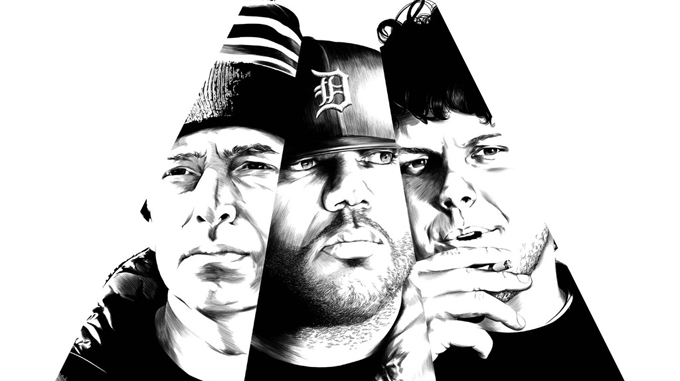 In case you haven't heard, Ugly Heroes released an album not long ago titled "EP". With 9 tracks, this is a solid outing for this trio, and they definitely did not disappoint. With dope beats and tight, unique vocals, Ugly Heroes "EP" is a must to check out. I did, so here is my review:

Kicking things off with

"Legit Worthless"

, the beat has a solid soul sample backing it, along with a tight drum track. The snare itself is what blends in really well since it has some tambourine on top of it and it just fits.

"Working on my rhymes with a full time job / Go to school full time, that's three full time jobs"

, spits Red Pill.

Keeping with the soul vibe, which is usual for Apollo Brown,

"Naysayers & Playmakers"

is another banger and this one is even better than the last. With a dope vocal snippet throughout and some horns coming in and out, this is one of the best on the album.

"Good Things Die (feat. Murs)"

once again throws in that nice snare with the tambourine and it's good to hear that because it shows that they're being consistent on this album. If anything, this beat is kind of hypnotic with the haunting vocals repeating in the background.

"Risk Brings Reward"

has a smooth soul (did you expect something else?) intro, while some tight drums drop in. What's great on this beat though is the guitar panned hard right; it's a nice addition. Also, the short breakdown around the one minute mark makes you anticipate the beat coming in again. Well done.

The next track,

"Michael & Scotties & Horace"

is really dope. At first the name didn't click with me, but then I was all "D'UH" as it refers to the Chicago Bulls from the 90's. I like this beat a lot because it's head nodding but also sounds tough and eerie at the same time. Actually, it's something that should be in a movie where someone is cruising around getting ready to fuck somebody up.

On

"Pay Attention"

, things slow down a bit with a much more laid back beat, which actually seems like the right time to bring this in. The sample used sounds like a synth but is more like a guitar/string/something that is on the tip of my tongue, I just can't name it. This track is really smooth though, something to chill to.

"Low Serotonin"

drops in next but this time it's Oddisee that takes a turn behind the boards. What's interesting is that you can tell it's not an Apollo Brown type of beat, but this beat fits in with the rest of them pretty well.

"It's the low serotonin / Master of ceremony / Kinda superbad and looking like Michael Cera's homie"

, are some of the lyrics spit on this one.

The eighth track is

"Ugly (feat. DJ Eclipse)"

, and even though it's a solid beat with the typical soul samples, it's one of the weaker ones on the album. Eclipse provides some dope cuts on this one, which fit nicely.

"Underrated (Apollo Brown Remix)"

is the one I really wanted to hear on this one because it's a remix by Apollo Brown, and I wasn't disappointed. This beat is very tight and it's great that it's at the end of the album because it leaves the listener wanting more. The horns in this beat are so dope, I just wish Apollo had of used them more, that's my only complaint. Really dope stuff.

Conclusion


Apollo Brown is the producer making things happen with Ugly Heroes, but it's Verbal Kent and Red Pill that are taking these dope beats and making them even better. Both emcees are perfect for each other, and together they're perfect for Apollo Brown.

"EP" is only nine tracks, but honestly that's all they needed. This is one of the few albums that I actually enjoyed from beginning to end and it will be in my rotation for the next while.

CHECK OUT THE UGLY HEROES "EP" ON AMAZON

Rating:

4 / 5 More Information


For more information on Ugly Heroes,

visit their page at MellowMusicGroup

.
Last edited: